-->
By: Jake
With Finger Lakes National Tour over every attendee is now mentally reconciling their driving, setup, and performance from the past weekend. Many wonder where they left time on the course (Saturday or Sunday). Some wonder why they were not looking ahead on one particular run at one particular moment, knowing full well that was exactly where they lost the time. Others just wish they hadn't gotten that cone penalty on their fastest run of the day. Only a select few are content with way the events unfolded. I, personally, have mixed feelings about how the event unfolded...
Friday began with an early morning road trip. The Hamfist Racing caravan was only 2 cars deep but we made it to Seneca Army Depot without incident. On the way we passed one hitchhiking redneck, five state troopers pulling speeds with lasers, and many tractor crossing warning signs. We dropped off the camping gear across the street at Sampson State Park and shot over to the event just in time to squeeze in one test and tune run. The surface felt loose and slippery. After tech and car prep Hamfist Racing headed back to the campsite.
That night we did our best to cook a decent meal in order to be properly nourished for Saturday's race. That proved to be quite difficult given the extremely humid conditions and wet firewood. It took all the "cowboy juice" I had to get the fire going and after that I needed to get creative to maintain the flame long enough for the chili to cook fully. Anybody with a turbocharged car knows the benefits of forcing additional oxygen into combustion. After nearly passing out from orally blowing (insert perverted comment here) on the fire, I broke out the air mattress pump and invented the world first campfire turbocharger. See tutorial video.
Saturday morning, 5:00am; cue the crows. I think that was the earliest I ever showed up for an autocross in my life. The weather report looked questionable and run groups can consider themselves lucky if they had consistent conditions for all drivers on all runs. Dave ran first thing in the morning in his A-Stock Honda S2000 CR Edition. The weather held dry for his Saturday and Sunday runs. Despite being on R888 Toyo tires, Dave managed to consistently run times within a second or so of the A-Stock top drivers on Hoosier A6's. A cone penalty on Dave's fast run Sunday would later come as a surprise and drop him down to 13th in class of 18 drivers.
The La Rosa's were not the only ASP RX7 in the running at Finger Lakes. In ASP there was a bumped Super Stock Z06 corvette and another 1993 Mazda RX-7, both with two drivers per car. Elena laid down the fastest RX-7 times on Saturday and Sunday and finished 3rd overall. Despite having coned away her fast time Saturday she was determined to beat the Corvette drivers, which she did on Sunday, but not by a big enough margin to cover the cone on Saturday. Regardless, her performance was stellar and I hope she enjoys that Mazda contingency prize money.
Meanwhile, STU ran the same heat as ASP. The class was nearly two times the size of ASP but not quite as large as A-Stock. My mentality beginning the race on Saturday was to secure a clean run no matter what. As a result, my first run was a remarkable slow 60.XX second run. I was driving completely contrary to the Hamfist Racing mantra: "Balls to the Wall." I managed to pick up some decent time on run #2 Saturday and 58.602 would stand as my fast time of day. Note, I only have videos of my 2 slower Saturday runs due to technical issues associated with running video for the first time.
Saturday seemed to drag on forever with rain sweeping in later just in time for our work assignment. I was sitting in a neutral 6th position of 11 in class so I had a lot of ground to cover Sunday. Not more than 5 minutes after we all got back to the campsite and I was out… cold.
After an 8 hour power nap I woke up and realized there was nothing to lose, being that I was sitting in 6th place. It was either spin or win. My first run Sunday was a real eye opener with regard to traction. I realized was simply over braking in the offset gates Saturday. Enter each offset with more speed than the previous and realized all I hard to do was turn harder and earlier. No brakes! Run #2 was more of the same with a slight improvement in time. Over the speakers, I could hear the announcer call me in second place with a time of 55.422 seconds.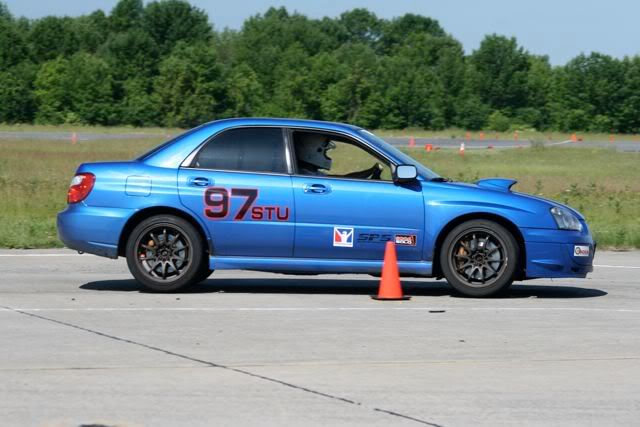 Waiting eagerly in the grid I hear more over the sound waves. Adam Fuhs knocks me out and then Josh Luster squeezes into the number two spot. Too much pressure… Breathe… I crank up some Bob Marley to drown out the announcing regarding STU pole positions as I worked my way up to the start line. None of what the announcer was saying mattered. I just needed to relax and prepare my nerves for the most hamfisted run of my life. I tell myself, "just look ahead and keep the go peddle to the floor".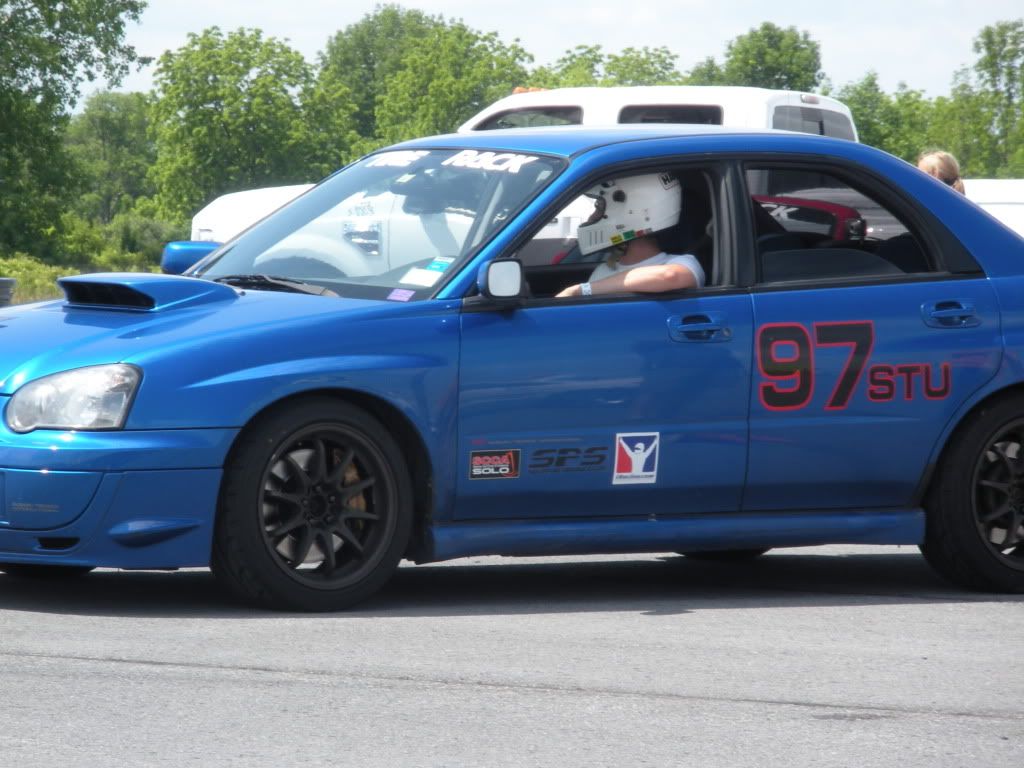 Letting Bob Marley Soothe My Nerves
The last run started out great! I didn't lift through the fast section heading out and I managed to get the downshift just right entering the slalom before the turnaround. However, in all my downshifting glory, I managed to overlook the last slalom cone and turn-in a moment too early. The loud, familiar, sound of a pylon hitting my fender well resonated through the driver's cabin. The only thing I could do now was make up for the 2 second cone penalty. The rest of the run was even more hamfisted than the beginning. My tires were hating me as I came screaming out of the concrete pad in 3rd gear. At the finish everyone was clapping and the announcer called the run clean. I looked at the time slip confused and I was only looking at the decimal places. I ran a XX.625. Slower than my XX.422, I thought, and dirty, I insisted. As everyone was complimenting my time I made a quick double take at the slip. The time was a 54.625 and was 2 tenths faster than Corey Ridgick fast time of the day Sunday and 8 tenths faster than my second run.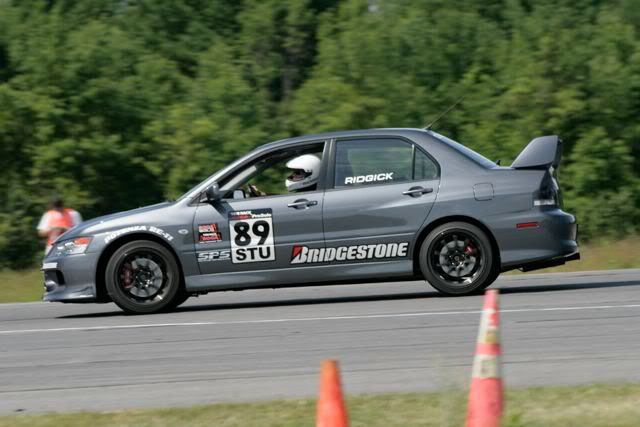 However, for 10 minutes I insisted to all who commented that the penalty audit would reveal a cone. When the paper came in I was astonished. No Cones! Later I found out that the cone I hit, cone #309, was completely flattened by my inside tire and miraculously popped up right inside the box. Thanks to John, the corner worker, for being on top of checking the cone. My final position was 2nd place in STU, 7 tenths from Corey Ridgick's top spot and 6 tenths ahead of Luster. My pax position was 35th of 232 drivers.
Lucky Cone #309
Later that day I bought I Pick 3 lotto ticket with the numbers 309. It didn't win. Cone 309 wasn't good for a 1st place win at Finger Lakes and #309 wasn't good for a lotto jackpot. Go figure.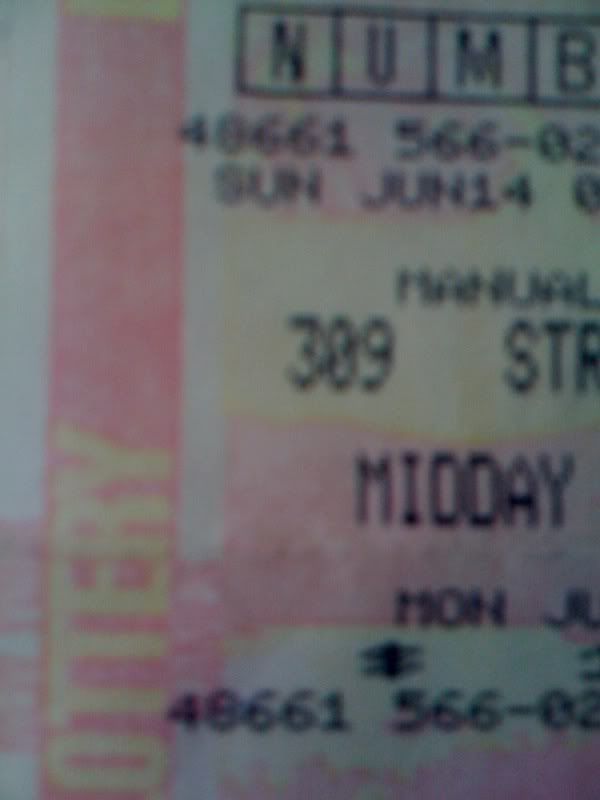 Not-So-Lucky Lotto Ticket #309