By: Jake
A recent daydream got me thinking life would be more fun as a professional racecar driver. You've had this dream too. It occurred to me this dream is unlikely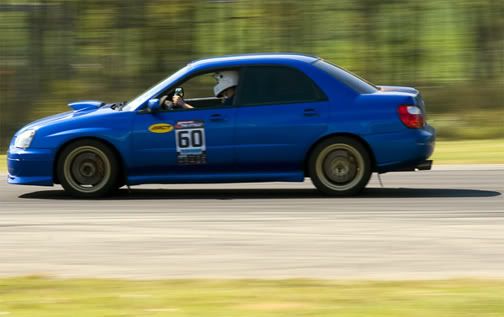 to become reality if I stick with autocross for the rest of my life. It was time to make a move. Time Attack seemed to be an appropriate medium to transition to professional racing since it has more sponsorship support and it is much more in the eye of the media.
A few clicks on the internet pinpointed the next time attack event within driving distance: the two day season finale of the 2008 Redline Time Attack Series held at Virginia International Raceway in conjunction with the GT Live Tour. The great appeal for me was seeing that the Street Class competition was to be battled out on the Patriot Course, a tight infield track with lots of safe runoff spaces. Autocross experience would help on such a course. Additionally, the tight track afforded little advantage to cars with lots of horsepower and extensive power upgrades. The straights on the Patriot course are short lived and the name of the game is cornering balance. My WRX STI, prepared merely with thicker sway bars, beefier endlinks, an upgraded clutch, springs, camber plates, downpipe, and a COBB ECU tune, stood a fighting chance. All the moons and stars seemed to be in alignment as the path to transition to a higher level motorsport materialized.
Before I knew it the spontaneous 8 hour road trip from New York City had concluded at the serene motorsports facility in the midst of country farms. Upon pulling into the Patriot course paddock at VIR early Saturday morning, it was clear this was not my weekly autocross competition. I was surrounded by drift and time attack cars with extensive sponsorship support.
A quick glance at my dashboard reminded me that I was running on fumes and it was time to hit the Sunoco pumps on site for the good stuff – 100 octane. The short drive up the infield led me to the main paddock, home to the gas pumps and to what seemed like hundreds of Koni Challenge / Grand Am team trailers… tractor trailers.
At this point it occurred to me that nearly 4 years after motorsports (namely autocross) became my sole obsession I had never entrenched myself in the experience of a professional race. Looking at the paddock I realized I knew as much about professional racing as I do about String Theory. Nevertheless, I can drive fast and this GT Live Tour event seemed more and more suiting as a kick off point for my lofty goals.
After tossing all the road trip essentials into a nice "neat" pile in the paddock and listening in on the drivers' meeting, the course was opened for an optional 2 hour practice session. Having never driven any layout at VIR I certainly had my work cut out for me if I wanted to finish strong at my first time attack.
While strapping myself into the car my lone crew member, local autocross competitor and girlfriend alike, quickly bled air from the Bridgestone RE01-R tires to go from fuel-economy-pressure to race-pressure. I cautiously pulled out onto the course analyzing the unfamiliar tarmac. With my driving dialed back to about seven tenths I discovered closely-linked sweepers and some very fun elevation changes. On the tight second gear sweepers I felt right at home – experiencing autocross flashbacks. The changes in elevation corner to corner, however, were an unfamiliar dynamic element that took some getting use to.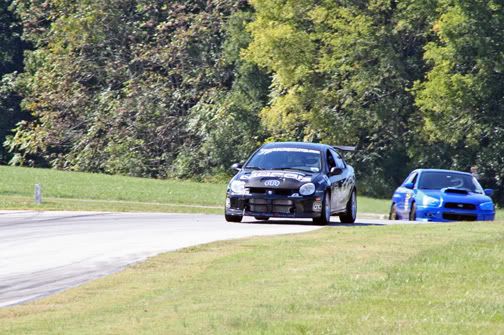 Practice lap times were qualifying drivers for hot-lap gird positions. After an hour of practicing I had the lead over the street class cars warming up, but the "victory" was short lived as I was quickly outrun by a Mopar/Continental Tire SRT- 4 Neon.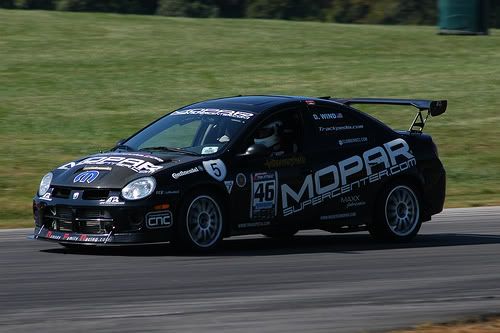 After a brief lunch break the street class competitors were called to grid for our day one hot-laps. I was qualified right behind the Mopar SRT-4. Another STI sponsored by Boxer4Racing and Continental Tire and a heavily prepared Slick Motorsports EVO – sporting, among other things, upgraded cams, intercooler, header-back exhaust, an FP Green turbo, and KW coilovers – were holding down the 3rd and 4th grid positions respectively.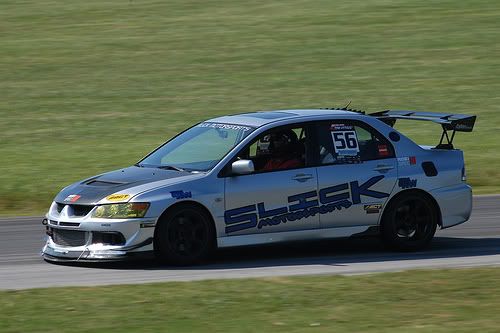 The four of us were set loose to see who could post a good run with the clock officially ticking. Staying consistent I laid down a 54.1 sec pass. The rest of the field improved pushing me down from 1st to 4th in Street-AWD Division. I was dethroned. Perhaps the other drivers were holding back in practice. There was nothing to do to improve my position until the next day so I decided to take part in the other festivities of the GT Live Tour.
Further into the VIR facility Subaru and Mazda had set up promotional tents with all sorts of activities and the Grand Am cars were deep into competition. Mazda had a nice rotary car show and was displaying some fully prepped MX-5 drift cars. At the Subaru tent I partook in autox fun runs driving their 2009 WRX test mule. According to the Subaru reps working the tent, I ran the fastest time of the day out of the participants, unofficially. Tire screeching and billowing smoke clouds over the Patriot course could be sensed from afar. The drifting competition had begun. Watching the drift cars making a mockery of the racing line was entertaining, but I had little energy left so I headed to the hotel for an early night's sleep.
The next morning's practice session got an early start. The plan was to warm up the car and find more time; both proved to be easier said than done. After one warm-up run I lost control after turn one and went off in deeply rutted dirt. I was concerned, having hit the ruts hard, against the grain and sideways. Sure enough the front right tire was leaking air. I imagined myself driving 55mph in the right lane of I-95 on a donut for 400 miles. I wasn't about to let my weekend come to an end like that.
A closer inspection of the tire revealed that dirt and rocks had wedged themselves between the rubber and rim. Multiple attempts to pry the debris out with a flathead had been unsuccessful. Then I remembered the Hoosier trailers parked over in the main paddock, there to support the Grand Am teams. I thought that since those guys do nothing but mount and balance tires all day they would surely help if I asked (or more precisely, begged) them nicely.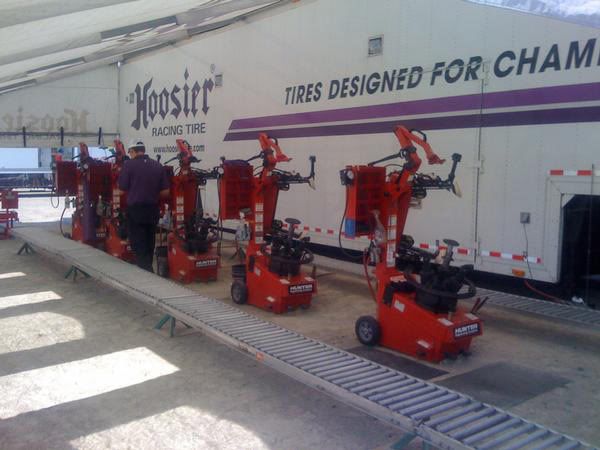 I shot right over to Hoosier just as they were opening shop. With less than three words spoken to the Hoosier rep, my wheel and tire were on their way down the assembly line of tire mounting equipment. Two minutes later I had the wheel and tire back as good as new. The Hoosier crew wanted nothing more than for me to have a good race. Needless to say I was touched and very thankful. They saved my weekend.
Back on course I gunned for a decent 53 second pass. Lap after lap, I was running consistent low 54s. Come time for the final hot laps I was qualified 5th based on that day's practice times. Ideally, I wanted to move into trophy position in Street-AWD division so that I would qualify for contingency.
Fearing I had exhausted what little tread I had remaining (after an entire summer of autocross and four hours of track time) I realized I needed an alternate strategy to move up in the ranks since I couldn't push my tires any harder than in practice. The timing equipment, or the finish line if you will, was placed slightly after the start of a braking zone which led to a fairly fast downhill right sweeper. The game plan was simple: brake late after the finish of my third hot-lap.
I ended up flat on the throttle through the finish line and having to stand on the brakes to avoid the grass on the outside of the sweeper. The maneuver was good for a 53.3 second lap time, a 3rd place trophy (0.2 seconds out from the winner: the Slick Motorsports EVO), some contingency sponsor prize money, and a soiled pair of underpants. It was absolutely worth it. After all, I am a professional racecar driver now, right? Not quite. It's clear I have a lot to learn about the world of professional racing. First, I have to see if I have any prize money left over after I buy a new pair of underwear for the drive home.
Photography Partially By: Budski Photography
Results - Redline Time Attack 2008 Season Finale
Street AWD
1 Alex Sharanevych - Slick Motorsports Mitsubishi Evolution - 53.138
2 Steven Renkins - Boxer 4 Racing / Continental Tire Subaru STI - 53.260
3 Jake Hamfist - Subaru STI - 53.395
4 Hovik Latavitz - Mitsubishi Evolution - 54.008
5 Shawn Moser - Mitsubishi Evolution - 54.163
6 Frank Abbato - Subaru STI - 54.511
7 Sebastian Kokoszka - Janko Imports Subaru WRX - 55.702
Street RWD
1 Thomas Hiromoto - Fuji Racing Mazda Miata - 52.957
2 Eric Wei - Revision Honda S2000 - 55.136
3 Mark - Revision Mazda RX-8 - 55.738
4 John Marsh - Allstars Mazda Miata - 1:03.492
Street FWD
1 Douglas Wind - Continental Tire Dodge Neon SRT-4 - 53.106
2 Justin Crenshaw - PTuning Scion xA - 57.614
3 Caesar Delgadillo - Acura RSX-S - 59.529
4 Mike Pound - Acura Integra - 59.985
5 Gary Fratianne - Mazdaspeed3 - 1:01.409
6 John Molinelli - Nissan Sentra SE-R Spec V - 1:02.105
7 Anthony Jones - Acura Integra - 1:02.232
Unlimited RWD
1 Tyler McQuarrie - C-West/Brian Crower Honda S2000 - 2:00.781
2 Sharif Abdelbaset - Forged Performance Nissan 350Z - 2:05.394
3 Bill Washburn - Dent Sport Garage Nissan 240SX - 2:08.386
4 Jeff Rica - 240SX Motoring Nissan 240SX - 2:11.187
5 Scott Bush - BC Racing Infiniti G35 - 2:17.322
6 Drew Staveley - Mazda Miata - 3:00.942
Unlimited AWD
1 Luke Russell - Top Speed Subaru Brighton - 1:58.540
2 Tarzan Yamada - Crawford Performance Subaru STI - 1:58.929
3 Phillip Grabow - Element Tuning Subaru STI - 2:01.214
Unlimited FWD
1 Bryan Johnson - Honda of America Racing Team Honda Civic Si - 2:03.789
Modified AWD
1 James Elterman - Crawford Performance Subaru STI - 2:23.930
2 Ron Adams - Dent Sport Garage Subaru STI - 2:30.942
Modified RWD
1 Sharif Abdelbaset - Forged Performance Nissan 350Z - 2:08.569
2 Burak Tuglu - Lassa Racing Tires Chevrolet Corvette Z06 - 2:09.257
3 Andrew Wojteczko - Auto Analyzer Racing Honda S2000 - 2:13.840
4 John Zepeda - Voodoo Racing / Comp Sounds Mazda Miata - 2:23.873
Modified FWD
1 Ross Miller - PTuning Scion tC - 2:12.208
2 Dave Pratte - Modified Magazine Honda Civic - 2:13.762
3 Don Hill - Continental Tire Honda Civic - 2:16.494
4 Mark Johnson - Cheap Trix Racing Honda CRX - 2:31.122